As of noon today the NHL free agency period is officially open, and it is expected to be a wild spending spree. With the salary cap rising to $64.3 million, seems every team has some money to spend. High payroll teams with not a lot of salary coming off the books (Pittsburgh, for example) suddenly have some extra space to work with, and some teams on the other end of the budget spectrum (Florida, best example) will be forced to sign free agents just to get to the $48.3 million cap floor. With a salary cap the highest it's ever been, add in the fact that the talent of this year's free-agent class isn't nearly as deep as some recent years. Suddenly, this year's free agency period is one of the more interesting of the last few years.
This year's class features zero game-changing players, save for one: Dallas Stars center Brad Richards. Richards is the one gem of this year's unrestricted free agent class, which features some familiar names, but no one close to the elite talent of Richards. By far the most intriguing storyline of this offseason's free agency period is where Richards will be playing hockey come next October.


Richards is believed to be fielding interest and long-term contract offers from the Los Angeles Kings, Toronto Maple Leafs, Calgary Flames, and New York Rangers. The Kings, Maple Leafs and Tampa Bay Lightning made in-person pitches to Richards and his agents this afternoon, while the Rangers, Flames, Philadelphia Flyers, Buffalo Sabres and Montreal Canadiens all made their pitches to Richards via conference call.
*UPDATE: Tampa Bay was thought to be in the mix earlier, but GM Steve Yzerman said his team is no longer in the running.
The Rangers have coveted Richards for a while, and the media has pegged them as the front-runner to land the 31-year old center. Larry Brooks of the NY Post reported earlier that the Rangers will be able to match any offer Richards receives, and according to a tweet made by Brooks, Rangers Executive Chairman James Dolan was in touch with Richards on Friday.
The Rangers are believed to have the edge in the derby, but both the Flames and Kings reportedly made very impressive pitches.
Richards would give the Blueshirts the playmaking center they've been searching for, as well as someone to quarterback a constantly lethargic power play. Richards could slide right in as the first line center, and would be the guy we all thought Drury and Scott Gomez should have been. It's already a great fit for both sides; but Richards' familiarity with John Tortorella, who coached Richards when they won the Stanley Cup with the Tampa Bay Lightning in 2004, makes it almost a natural fit.
The Rangers made some room under their crowded cap on Wednesday, when they bought out the final year of captain Chris Drury's contract; a mutual breakup I guess you'd call it, as it sort of gives the impression that Drury is doing what's best for the club. With the Drury buyout, the Rangers have a little more space to work with. Some of the core players that attributed to the Rangers playoff appearance last season are due new contracts. As it stands right now, their cap hit for next season is $37.932 million – leaving $26.368 million of cap space to sign: restricted free agents Ryan Callahan, Brandon Dubinsky, Brian Boyle, Artem Anisimov, Matt Gilroy, and Michael Sauer; and unrestricted free agents Ruslan Fedotenko, Vaclav Prospal, Steve Eminger, and Bryan McCabe.
Naturally, with near NHL-ready talent in the system, some of those guys will be allowed to enter the market. And as is the nature of the beast, some of them will get swiped from under our check book.
Richards in New York appears to be a natural fit if the Rangers can meet his contract demands. The market for Richards is pricey, but is expected for an elite number one center. Still, you've got to think someone will overpay a few million for Richards, considering his talent level and considering even more the lack of depth in this year's free agent crop. The early word is that it'll be heavily front-loaded, and will likely be eight or nine years.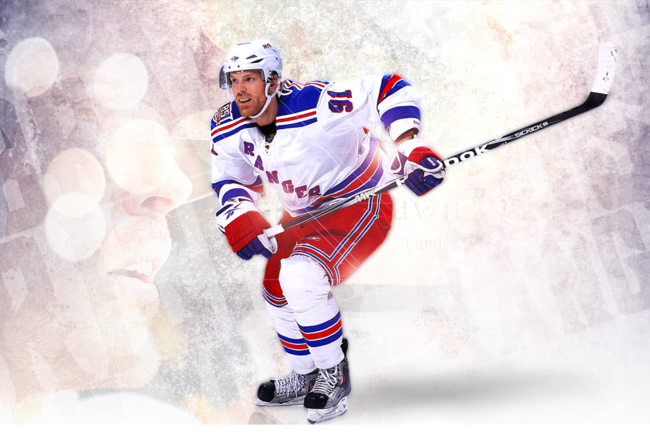 The max salary for a single year is currently $12.86 million – the first two years of Richards' deal should approach that number. However, expect the cap hit to be south of $8 million, with a low salary towards the end of the contract when Richards will be pushing 40 years old. If a player wants huge money up front, New York is where he'll get it.
I'd offer 8 years at $51 million, with a per-year salary breakdown of: $11 mil., $11 mil., $9 mil., $6 mil., $6 mil., $3 mil., $3 mil., $2 mil.
This gives Richards and his agents a lucrative, 8-year deal in New York City. This gives the Rangers a front-loaded deal with a low-cost buyout at the end of the contract, and a cap hit below $8 million. Now, the contract may be a bit frightening. However, it leaves us with just enough cap room to sign a majority of our expired contracts, it's front-loaded so while Richards is still getting paid well he'll also be performing well, and it will be a very low-cost buyout at the end of the deal if need be.
Oh, and Brad Richards is a damn good hockey player.
*UPDATE: The Rangers have agreed to terms with veteran forward and unrestricted free agent Ruslan Fedotenko on a one-year contract worth $1.4 million dollars. The Blueshirts also announced they have agreed to terms with unrestricted free agent forward Mike Rupp, on a three-year contract worth $4.5 million. This team keeps getting tougher.
*UPDATE, 11:30 P.M.: Decision to come some time Saturday afternoon. Bob McKenzie of TSN tweets he, along with many others, believes the Rangers are the leaders of the pack heading into the home stretch, and that the Blueshirts' offer "may be for 9 years, maybe around $63 to $65 million. Obviously front-loaded."
Keep track of free agent signings all summer long: TSN's Free Agent Tracker