Let's move back into the first round today and look at USC's Tyron Smith. There are many offensive tackle prospects that the Giants will be interested in come April, and Smith is one of a few linked to the Giants in the first round. Smith, a junior who declared early, is immensely athletic at the tackle position and sounds like a Jerry Reese kind of pick: young, raw, a little inexperienced — but he is a gifted prospect with tremendous upside.
Smith declared early and some believe he would have been better served to stay for his senior season. He's not developed yet, and he won't start immediately, but with work he could turn into an upper-echelon offensive tackle.
Reports after the jump.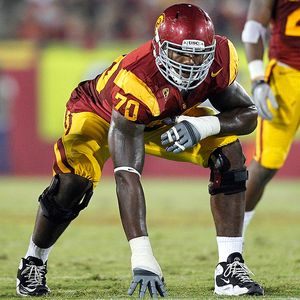 Tyron Smith
Junior, OT
Southern Cal
6-5, 285
First let's look at Smith's report from the National Football Post:
A tall, athletic-looking offensive tackle prospect with a long frame, long arms and a lot of growth potential in his lower half. Is only twenty years old and still has a lot of maturing to do with his frame and should be easily able to add additional bulk/weight without much of a problem. Plays right tackle at USC and will likely need to learn to make the move to left tackle at the next level, stunting his growth a bit in playing quickly during his rookie year. However, he's a gifted athlete off the edge with natural bend in his lower half, is able to sit into his stance, play with leverage into contact and extend his long arms well at the point of attack. Lacks ideal power/strength for the position and at times tries to make up for it by getting a bit more physical into contact and will get overextended and lunge into blocks and lose his man toward the corner. However, for the most part is a patient puncher who uncoils quickly into contact, is heavy handed for his size and has the body control to slide his feet and mirror through contact. Displays good hand placement and is tough to disengage from through the play. Possesses clean footwork on the outside, has a quick power step but at times gets a bit long with his footwork. However, for the most part maintains good balance, stays compact and has the range to consistently reach
speed toward the edge and redirect in space.

Is a gifted athlete in space in the run game. Quickly releases to the second level, breaks down on his target and consistently is able to get his hands into contact and seal. Doesn't always hit what he sees when trying to cut defenders down at the line, but is quickly out of his stance when trying to step and seal and works his legs around defenders well
through contact. Plays with good leverage as an in-line guy, extends his arms well into contact, bumps his legs and can create an initial surge because of his pad level and technique. Needs to continue to get stronger in order to do the same at the next level, but he should be able to pretty quickly in his career.

Impression: A gifted athlete for the position who at only 20 years old is far from a finished product. However, the flexibility, athleticism, frame and body control are all there for this guy to develop into a very good starting left or right tackle in the NFL, depending on where he feels comfortable.
Also be sure to check out their offensive tackle big board to see where other prospects rank compared to Smith.
From CBS Sports:
Pass blocking: His best trait. Flashes very good initial quickness and gains good depth with his initial kick-slide. Shuffles his feet laterally to mirror the defender. Has the long arms and strong hands to lock onto the defender. Loses focus and relies too much on his agility to remain in front of the pass rusher. Has the agility to handle converting to the left side.

Run blocking: Good positional blocker. Quick off the snap and can catch and turn his opponent away from the play. Does a nice job of walling off his target, but needs to get stronger and keep his feet churning to drive his opponent out. Isn't afraid of contact and can drive the defender off the ball in short-yardage situations with his initial push, but isn't yet strong enough to finish blocks consistently.

Pulling/trapping: Good mobility to pull and lead the toss-sweep. Good balance and straight-line speed getting to the second level.

Downfield: Good athleticism and effort to make downfield blocks. Looks for someone to hit and will peel back if necessary to pop a defender giving chase. Good overall athleticism, but struggles changing direction and therefore must do a better job anticipating where the defender is going to be, rather than allowing him to rush past.

Intangibles: Only three years removed from high school. Occasionally moved to left tackle during games, but all 24 of his career starts were at right tackle. Missed the Boston College game in 2009 due to an academic suspension. Missed the 2010 Notre Dame game with a sprained knee. Played on special teams, blocking two kicks in 2010 (Washington State, Arizona State). Not yet a finished product.
The cream of the crop of this year's offensive tackles class seems to be in the eye of the beholder – some people like Nate Solder, others like Derek Sherrod, some others like Anthony Costanzo, others like Smith, and a few more like Gabe Carimi. It's dizzying.
Smith is a player whose draft stock has been, to say the least, soaring. At 6-foot-5, 285-pounds when USC's season was over and just 20-years old, there's still time for Smith to add to his frame – reports are that he's already up to 307. Add to that his 35-inch arms, phenomenal for an offensive lineman, and a good Combine and he could skyrocket into the top-10. He may not make it to the Giants at 19th overall.
Jason Smith was taken 2nd overall two years ago; Tyron Smith looks to be twice the pro prospect Jason Smith was.