What do ya know?!? Outside of Javy Vazquez, Robinson Cano was arguably the brightest spot for the Yankees this season. (I kid, I kid). Back in early April, I did a piece profiling Cano's 2010 season for Bleacher Report. If you re-read this article, you'll see that I was pretty darn close with my projection for the Yankee second baseman. Given the plentiful opportunities hitting behind Alex Rodriguez, Cano's final line of 29 HRs, 109 RBIs, and .319 batting average really wasn't a huge surprise. Defensively, Cano had his best season ever. The only question concerning Cano's 2010 season?
Is he the 2010 American League MVP?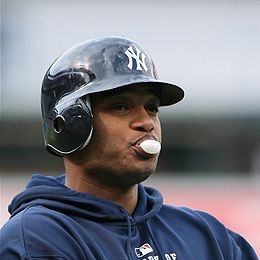 Coming into 2010, many Yankee fans were clamoring for management to re-sign the hero from the 2009 World Series, Hideki Matsui. Matsui's six RBI performance in Game 6 over-shadowed the fact that he had become a one-dimensional player. Matsui could no longer play the outfield and with many Yankees needing DH-time (thanks Nick Johnson), bringing him back was not an option. When Matsui signed with the Angels, many wondered who would protect Alex Rodriguez in the Yankee order.
Enter the sweet-swinging, ultra-smooth second baseman from the Dominican Republic. Batting behind A-Rod, Cano posted career highs in home runs (28), RBIs (109), walks (57), and most importantly, on-base percentage (.381). Cano's .914 OPS was 78 points higher than his career average. Cano was one of the lone bright spots during the post-season as he clubbed four home runs.
After reading the Bleacher Report article above, you know that Cano was great hitting early in the count. The same trend held true in 2010. Cano hit .338 in 1-0 counts and .348 in 2-0 counts. Either get ahead of Cano, or suffer the consequences.
Defensively, Cano had the best season of his career. Cano committed only three errors in 2010, posting a career high fielding percentage of .996. There's definitely some gold coming Robinson's way later on today.
However, will Robinson collect another award on November 23rd?
The American League MVP race is tightly contested. Besides Cano, Josh Hamilton and Miguel Cabrera both have cases for and against the award. Hamilton posted the highest batting average in the American League (.359), but he only played in two September games. Remember, MVP ballots are submitted immediately after the regular season ends. Miguel Cabrera crushed 38 home runs and drove in 126 runs, but the Tigers finished 81-81.
Winning the MVP would be nice for Cano, but it's not necessary. He proved to all Yankee fans this season that he is fully capable of protecting A-Rod in the lineup. He wowed us on a daily basis with his slick fielding and has emerged as the best second baseman in baseball. The sky is the limit for Cano as he looks towards 2011.