The National League defeated the American League tonight 3-1, as they won for the first time since 1996 at Veterans Stadium in Philadelphia. Brian McCann was named MVP for his bases clearing double, accounting for all three runs the National League scored.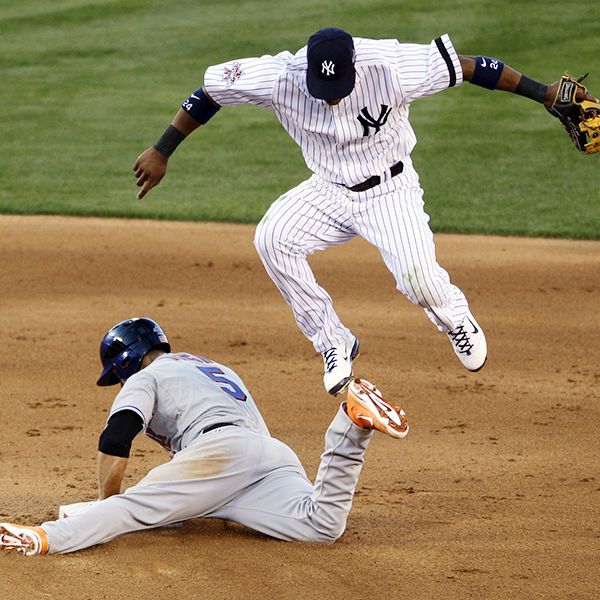 AP Photo/Greg Bull
David Wright slides in for a stolen base, below Robinson Cano.
Initial Reaction:
It was an all star game dominated by pitching. Only four runs were scored the entire game, and none of the runs came off of the top pitchers in the game. Phil Hughes took the loss for the American League as he allowed runners to reach first and third with one out before allowing the White Sox reliever Matt Thornton to walk Marlon Byrd, and allow a bases clearing double by Brian McCann. Jonathon Broxton came in to close the game as the National League gained home field advantage for this years World Series.
The Positives:
New York's 3rd Baseman: David Wright was awesome tonight, reaching base during both at bats, and stealing a base. He raised his career All Star batting average to .462, good enough for 5th all time for players with at least 10 at bats.
Home Field: The Senior Circuit gained home field advantage for the first time since the All Star game has determined such. The Mets will now host Game 1 and 2 of the World Series when they make it there come this October.
The Negatives:
Offense: Only 4 runs were scored in an All Star game, what gives? This is the year of the pitcher, and the pitchers definitely showed that they're the cream of the crop when it comes to the best players in the game.
What's Next?
The Mets will have off tomorrow, along with the Yankees. The Mets head to San Francisco to begin an 11 game road trip on the West Coast where they will be joined by Carlos Beltran on Thursday. The Yankees will begin the 2nd half of the season at home on Friday versus 2nd place Tampa Bay.
Probables:
NYM R.A. Dickey (6-2) 2.77 ERA vs. SF Tim Lincecum (9-4) 3.16 ERA
NYYCC Sabathia (12-3) 3.09 ERA vs.  TB James Shields (7-9) 4.87 ERA