Jose Reyes' two home runs were not enough for the Mets, as they fell for the first time on their eight game road trip. They're now 38-28 on the season, 1.5 games behind the Atlanta Braves for 1st place in the National League East.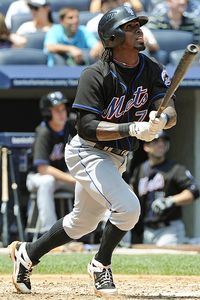 AP Photo/Bill Kostroun
Initial Reaction:
A pair of 9-1 pitchers matched up today, and Phil Hughes got the best of Mike Pelfrey this afternoon. Even after Jose Reyes staked the Mets to a 1-0 lead, and a 3-1 lead, Mike Pelfrey just didn't have it today as the Yankees were able to score five runs off of him in seven innings. The loss is only the 6th in the last 25 games for the Mets. Losses happen, but its more important to see how they respond tomorrow with their ace on the mound.
The Positives:
Jose Reyes: He's the catalyst of this team. If the Mets are going to make a run at the playoffs, he's going to lead the way. He was 2-4 on the day, with 2 home runs, 2 runs scored and 3 RBIs.
Angel Pagan: Pagan reached base three times today. He had a single, double, and a walk. He has the highest batting average on the team, at .296.
The Negatives:
3,4,5,6,7: The 3-7 hitters combined for one hit (1-14), a single by Jason Bay.
Basepath Troubles: For the 2nd game in a row, Angel Pagan was caught stealing, this time by the very average (defensively) Jorge Posada.
What's Next?
The Mets send the ace of New York to the mound, looking to win their 2nd series of the season against the Yankees.
First pitch- 1:05pm SNY, YES
Probables:
NYM Johan Santana (5-3) 3.13 ERA vs. NYY CC Sabathia (7-3) 4.00 ERA