Things could not have been better on April 30th. New York was in the midst of an eight game win streak by the Mets, led by their pitching. We knew the offense needed to step up, but the pitching was carrying the load, all the way to 1st place, for two days.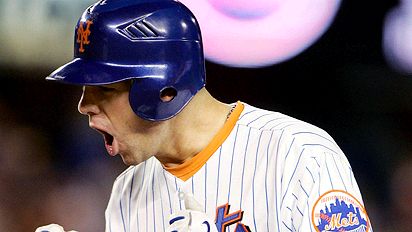 Christopher Pasatieri/ US Presswire
Since May began, the Mets are 4-11, having just been swept by Florida, and losing two of three at home to Washington. Currently, the division looks like this:
PHL                  23-13
WSH                20-18
FLA                  20-18
ATL                 18-19
NYM               18-20
New York has gone from the division lead on May 1st, to last place on May 17th. They're six games back heading into a crucial week where they'll play four road games (two in Atlanta and two in Washington) before coming home for three against the hated Yankees. If the Mets come out of this week 4-3, I'll take it, but if they continue to slide, Jerry's seat is going to start to heat up as everyone in Flushing will begin to lose patience, again.
With questions marks in both the rotation, and the lineup, this is what needs to be done, in order for New York to straighten things out, and move forward until Beltran returns.
Offense:
Jose Reyes is a lead off hitter. I agreed with Jerry's decision to hit him 3rd, along with Mike Francessa's statement about "lengthening the lineup". By hitting Reyes 3rd, that bumps everyone else down one spot, to create less gimme outs at the bottom of the lineup. It didn't work though, and the Mets haven't been winning with him 3rd. The Mets winning percentage when Jose Reyes scores a run is .685 (294-135). When he doesn't, .359 (142-253). Hitting Reyes lead off allows him more at bats and more chances to get on base. You can only score if you get on base, therefore Reyes needs to be on base to score and help the Mets win.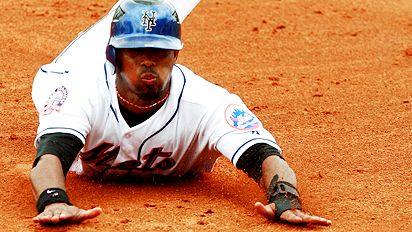 Doug Benc/Getty Images
Carlos Beltran being hurt is paralyzing the Mets offense, because he is a pure #3 hitter. The Mets are struggling to fill that hole, and just last night tried batting Jason Bay in the three-hole for the first time. With Beltran out, the lineup should be : Reyes, Castillo, Bay, Wright, Davis, Barajas, Pagan, Francoeur. Pagan is okay in the 3rd position (where Jerry has had him several times since re-inserting  Reyes at the top of the lineup) but he doesn't generate enough power. I liked him in the leadoff, but Jose trumps him there. Batting 7th will allow him to get more fastballs, and could help alleviate some of the struggles the Mets have had with driving runners in.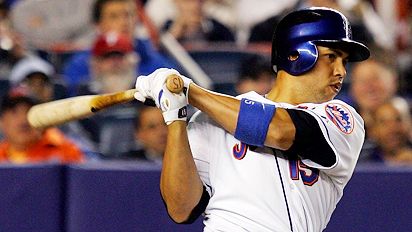 Jim McIsaac/Getty Images
Pitching
Ollie Perez is out of the rotation after his most recent god awful outing. With Perez taking over as the newest (and most expensive) fixture in the bullpen, an opening is left in starting rotation. There are two paths the Mets can take for this decision. Hisanori Takahashi came to the Mets from Japan, and was a starting pitcher his entire career. The Mets made him a middle reliever, and he's been outstanding. Jerry could give him the 5th starter role to replace Perez, but by doing that, they are losing one of the guys in the bullpen that has been steady the entire season. The other option is promoting R.A. Dickey from AAA. Dickey is my choice to replace Perez. He's a knuckle ball pitcher whom the Mets signed this past offseason. This isn't his first rodeo, he's been around for the better part of eight years compiling a career 22-28 record with a 5.43 ERA in his career. He has however started only 48 games whereas he's appeared in 96 more games as a reliever. I'm not saying Dickey's going to be Cy Young, because he isn't, but he can throw strikes (he retired 27 straight batters in a AAA start after giving up a leadoff single). Dickey doesn't need to be great, just better than Ollie.
Another question mark surrounding the rotation is Niese's hamstring. If he's not healthy, the Mets are in serious trouble. They'll need to add an arm (and overpay) for one. Niese hasn't been like Pelfrey or Santana, but he's been a solid middle of the rotation guy, and losing him after demoting Ollie will just turn this team upside down. New York can't afford to lose Niese (or Pelfrey and Santana).
John Maine is the other question mark. After three very solid outings, he was not efficient whatsoever in Florida. He threw 12 straight balls to start the game, and exited before completing five innings because of such a high pitch count. Maine needs to get his control in order, which I think he'll do, because he wants so badly to succeed and you can see it in his body language.
With Perez finally gone, the rotation should look something like this:
Johan Santana
Mike Pelfrey
Jonathon Niese
John Maine
R.A. Dickey
What would you do if you were running the Mets? Trading for players A,B, & C, isn't logical. How does a team that is struggling like this turn it around? If you say to FIRE JERRY MANUEL, who do you replace him with, and if Jerry goes, Omar needs to go too. But by doing that, your forfeiting this season, and nobody wants to see the Wilpon's give up before Memorial Day.  Post your changes to the Mets below.