In one of the most compelling and exciting drafts in a long time, Oklahoma quarterback, Sam Bradford was the first player selected. Highly ranked Notre Dame quarterback, Jimmy Clausen was not selected in the first round. What will happen tomorrow?
Who were the winners and losers from tonight?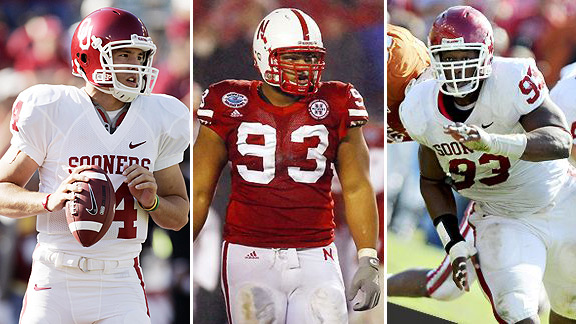 US Presswire
The Winners:
1. Roger Goodell–  Could the draft have been any more of a success? Moving the 1st round to prime time was a genius move and the seven trades that occurred throughout the night had all the viewers (or at least me) on the edge of the couch the entire night.
2. San Francisco 49ers– San Francisco added two offensive linemen, Rutgers offensive tackle, Anthony Davis and Idaho guard, Mike Iupati. They made a commitment to current quarterback Alex Smith by passing on Notre Dame's Jimmy Clausen. Running back Frank Gore has to be happy with the first two picks.
3. Seattle Seahawks– Future Hall of Fame offensive tackle, Walter Jones is going to retire. Tonight, they drafted his replacement with their selection of Oklahoma State's offensive tackle, Rusell Okung. In addition to Okung, the Seahawks shored up their horrendous pass defense by adding Texas safety, Earl Thomas.
4. Dallas Cowboys– Oklahoma State stud wide receiver Dez Bryant at Pick 24?!? He's a top five talent who only cost the Cowboys a later pick in the 3rd round (Dallas gave the 27th overall and 90th picks for New England's 24th and 119th).
The Cowboys' skill position players?
Miles Austin, Dez Bryant, Jason Witten, Felix Jones, Roy Williams.
Scary stuff can happen on the offensive side of the ball in Big D.
Biggest Losers:
1. Jimmy Clausen, QB, Notre Dame– He could have been a top 10 pick. Instead he slid, and slid, and slid. All the way into Day 2. Look for someone early to make a move up to the top of Round 2 and grab this neglected quarterback.
2. New York Giants– The Giants missed out on highly-tauted inside line backer, Rolando McClain. The Eagles traded up and grabbed Michigan's outside linebacker, Brandon Graham, a player on the Giants draft board. The Giants selected South Florida defensive end, Jason Pierre-Paul. Pierre-Paul is very green(seven starts in 2009 with South Florida). While he does have a lot of upside, passing on Georgia Tech's Derrick Morgan in favor of him is questionable.
3. Buffalo Bills– Clemson running back, CJ Spiller is a dynamic player.  But the Bills already have two productive running backs on their roster, Fred Jackson and Marshawn Lynch. The Bills have needs at offensive tackle, quarterback, and throughout their defense. This pick just didn't make sense from a need standpoint.
So that's it for Day 1. Whether you love it or hate it, Tim Tebow is a Bronco.
Top 5 Prospects still available:
1. Jimmy Clausen, QB, Notre Dame
2. Taylor Mays, S, USC
3. Colt McCoy, QB, Texas
4. Arrelious Benn, WR, Illinois
5. Carlos Dunlap, DE, Florida
What picks surprised you?