This week, in the fourth part of our series with "The Lineup", we will be looking at the hot corner: third base. Last week, we covered second base and got three out of five players on the list, including #1, Jackie Robinson. The two players who snuck on the list were Willie Randolph and Bobby Richardson, who we had at numbers six and seven, respectively. As a staff, we won't pretend to be bitter about Richardson making the list despite his 34 career HRs and .299 career OBP (!). Anyway, let's take a look at our top five New York third basemen.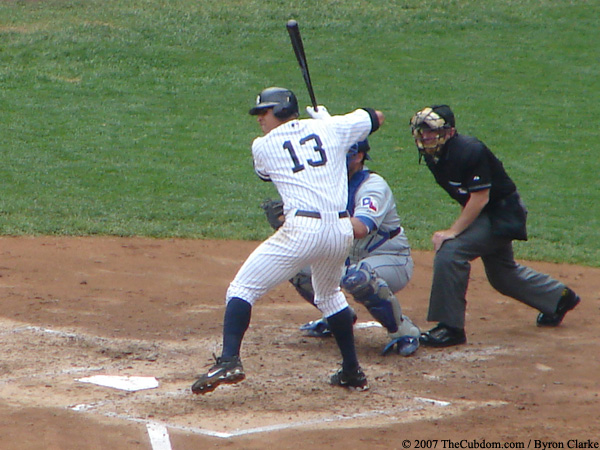 Alex Rodriguez – New York Yankees (2004-present) Say what you want about his steroid use, his new girlfriend every week, and his obsession with mirrors, but he is still one of the premier players of our generation. His long list of accolades includes: twelve All-Star selections, ten Silver Slugger Awards, four Hank Aaron Awards, two Gold Gloves, and a World Series Championship.


Career Stats:

.305 BA, 583 HRs, 1706 RBIs, 297 SBs
Wade Boggs – New York Yankees (1993-1997) Known for his keen eye and discipline at the plate, Wade Boggs was a pure-hitter in the form of a Pete Rose: a focus on getting the ball in play and not slugging home runs. Boggs was a 12-time All-Star, 8-time Silver Slugger, 2-time Gold Glover, a World Series Champion, and was inducted into the Baseball Hall of Fame in 2005.


Career Stats:

.328 BA, 118 HRs, 1014 RBIs


Why he's not higher:

In his 18 years in the big leagues, he only spent five with the Yankees. For someone of his caliber, it's excusable, except when it's for the Red Sox and the Rays.
Howard Johnson – New York Mets (1985-1993) Our token Met makes his appearance on the list. Johnson was an integral component of the 1986 World Champion New York Mets. Also, he and Darryl Strawberry were the only two teammates in history to ever have 30-30 seasons.


Career Stats:

.249 BA, 228 HRs, 760 RBIs, 231 SBs


Why he's not higher

: His batting average during his nine-year tenure in Queens was the same as his career BA. That stat doesn't especially jump out at you.
Graig Nettles – New York Yankees (1973-1983) Graig Nettles was mostly known for his power, but that doesn't speak for his defensive play. At third base, he racked up a career fielding percentage of .964. He was a 6-time All-Star, 2-time Gold Glover, 2-time World Series Champion, and a New York Yankees captain. He was also mentioned in the Bruce Springsteen music video "Glory Days". (Skip to 5:15 if you want to miss a good song, but a lot of cheesiness).


Career Stats:

.248 BA, 390 HRs, 1314 RBIs


Why he's not higher:

His career batting average / on-base percentage (.248/.329) numbers are absurdly low.
Frank Baker – New York Yankees (1916-1922) Frank "Home Run" Baker is one of the best players from the "dead ball" era. His nickname comes from hitting two home runs in one game to win the 1911 World Series. He was also a 4-time AL Home Run Champion, 2-time AL RBI Champion, and was a 3-time World Series Champion. He was also inducted into Cooperstown in 1955.


Career Stats:

.307 BA, 96 HRs, 987 RBIs


Why he's not higher:

His power numbers are nothing compared to today, but he played in the dead ball era, so give him a break.
That's our list, and we're sticking to it. I feel that in a few years, David Wright will have earned a place on the list, but with only six seasons under his belt, the sample size is way too small. How do you feel about our top 5 for this week? Don't forget to log on to here to try to fill out a perfect scorecard to win autographs from your favorite New York baseball legends!
Photo Credit: Byron Clark