With the NFL Draft quickly approaching, here is our fourth mock draft. As I predicted during our last mock, Donovan McNabb went on the move, but not to where it was expected. Let's see how that impacts the first round….
1.     St. Louis (1-15) – Sam Bradford, QB, Oklahoma. In the past week, the Rams did not trade for Donovan McNabb. Also, they cut Marc Bulger. I wonder what position they are targeting?
2.     Detroit (2-14) – Ndamukong Suh, DT, Nebraska. If he's as good as he was at Nebraska, he will be one of the best defensive tackles of all-time.
3.     Tampa Bay (3-13) – Gerald McCoy, DT, Oklahoma. Tampa Bay needs help at all defensive positions. They will pick who many have as the best player in the draft.
4.     Washington (4-12) – Russell Okung, OT, Oklahoma State. Great move by trading for Donovan McNabb. Now, they don't have to waste a lot of guaranteed money on Jimmy Clausen and can start the rebuilding of the offensive line.
5.     Kansas City (4-12) – Bryan Bulaga, OT, Iowa. Bulaga has been skyrocketing up draft boards. Originally, it was thought that defensive tackles would rule this draft. However, it will be the offensive tackles who rule the first round.
6.     Seattle (5-11) – Trent Williams, OT, Oklahoma. The tackles start to go on a run. Look for Trent Williams to go earlier than originally expected as teams are starting to fall in love with his career instead of his combine.
7.     Cleveland (5-11) –Eric Berry, S, Tennessee. Berry had a great combine, showing he is the next big thing at safety. Getting Joe Haden from Florida here is just as feasible as a possibility.
8.     Oakland (5-11) – Anthony Davis, OT, Rutgers. As every draft website will tell you, the Raiders need help on the offensive line. Let's hope they don't go after famed April Fools Day prospect Boo Wheatly.
9.     Buffalo (6-10) –Jimmy Clausen, QB, Notre Dame. The Redskins trading for McNabb hurts Clausen the most. However, he will still go in the top 15 and will be given the chance to earn a starting job.
10.  Jacksonville (7-9) – Derrick Morgan, DE, Georgia Tech. The Jags managed to sack the opposing team's QB only 14 times last year. Derrick Morgan is the best available defensive end in this year's draft.
11.  Denver – from Chicago (7-9) – Jason Pierre-Paul, DE/OLB, South Florida. McClain to the Broncos seems like way too far of a reach. I expect them to trade down in an attempt to accumulate picks, but Pierre-Paul can be a solid rush end/ 3-4 OLB.
12.  Miami (7-9) – Dez Bryant, WR, Oklahoma State. The Dolphins, like most teams, will hopefully forget Bryant's sins and realize just how electric of a player he was at Oklahoma State.
13.  San Francisco (8-8) – Joe Haden, CB, Florida. As it gets closer to draft day, teams start to forget about the combine. Haden had a great pro day, and his game tape backs it up. He could go as early as 7.
14.  Seattle – from Denver (8-8) – C.J. Spiller, RB, Clemson. The Seahawks still need a running back. The comparisons to Chris Johnson should ensure him going in the top 15.
15.  New York Giants (8-8) – Rolando McClain, LB, Alabama. This is a key addition to the Giants' defense for the offseason. If they fail to grab McClain, they will need to address linebacker via free agency.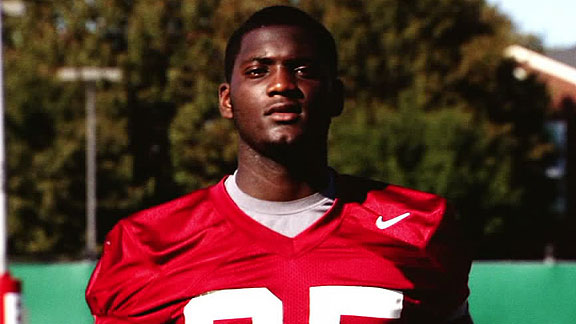 16.  Tennessee (8-8) – Sergio Kindle, DE/OLB, Texas. I still think the Titans need to address the DT position to compensate for last year's loss of Albert Haynesworth. However, Sergio Kindle here will be a great selection.
17.  San Francisco – from Carolina (8-8) – Taylor Mays, S, Southern Cal. Taylor Mays going to play for Mike Singletary is a scary thought. If anyone is going to be the next Ronnie Lott, it's him.
18.  Pittsburgh (9-7) – Mike Iupati, OG, Idaho. The Steelers need to seriously consider taking Iupati, as Big Ben continuously gets beat up year after year. An OT selection wouldn't be bad either, but the interior of the line needs some help.
19.  Atlanta (9-7) – Carlos Dunlap, DE, Florida. As I mentioned in an earlier mock, the Falcons need a defensive end. Hopefully, Dunlap works out his personal issues and decides to grow up and be the professional football player he has the potential to be.
20.  Houston (9-7) – Dan Williams, DT, Tennessee. The defensive tackles, supposed to be the stars of this draft, have to take a number to the offensive tackles. The Texans need all the defensive help they can get.
21.  Cincinnati (10-6) – Arrelious Benn, WR, Illinois. I do feel that the Bengals need a tight end still, but a wide receiver to complement Ocho Cinco will help out Carson Palmer more than a Jermaine Gresham.
22.  New England (10-6) – Brandon Graham, DE/OLB, Michigan. For the Pats' sake, I hope he falls to them. He is the perfect player for their defense. In more ways then one, he reminds me of LaMarr Woodley, another Wolverine linebacker.
23.  Green Bay (11-5) – Patrick Robinson, CB, Florida State. They have great corners, but they aren't getting any younger. He will be ready to take the handoff from Charles Woodson when he decides to call it quits.
24.  Philadelphia (11-5) – Earl Thomas, S, Texas. The Eagles have many more holes than their draft position indicates. Safety is one of them. They won't go wrong with an offensive lineman or any position on the defense. With numerous draft picks, they could trade up in the first few rounds.
25.  Baltimore (9-7) – Jermaine Gresham, TE, Oklahoma. Todd Heap was a great player, but too many injuries slowed him down. A young tight end to grow with Joe Flacco will help build his confidence going into his third year.
26.  Arizona (10-6) – Sean Weatherspoon, OLB, Missouri. I think the Cardinals will be going through a major rebuilding process this year. Weatherspoon is one of the many pieces that are needed.
27.  Dallas (11-5) – Bruce Campbell, OT, Maryland. With the release of 12-year veteran Flozell Adams, left tackle is now a need for the Cowboys.
28.  San Diego (13-3) – Ryan Mathews, RB, Fresno State. He showed great size and speed at the combine. I'm not saying he's the next LT, but he's the best available replacement
29.  New York Jets (9-7) – Golden Tate, WR, Notre Dame. He's been my guy to go to the Jets since I started doing mock drafts, so hopefully he will go to them. A rush end is another possibility.
30.  Minnesota (12-4) – Colt McCoy, QB, Texas. I think McCoy has the potential to be the best quarterback in this year's draft. At his pro day, he proved to teams that his shoulder is fine. Someone is going to have to be there at quarterback if Favre decides not to come back, so Colt is their guy.
31.  Indianapolis (14-2) – Kyle Wilson, DB, Boise State. An athletic playmaker at Boise that can help on defense and on special teams. An offensive lineman is a possibility, because you can't protect Peyton enough.
32.  New Orleans (13-3) – Brian Price, DT, UCLA. Unfortunately, Brian Price falling here doesn't allow me to make a Terrance Cody/Bourbon Street joke. However, Price is one of the rising stars of the draft and could go much earlier.
Photo Credits: NFLMocks, ESPN, and the NY Post